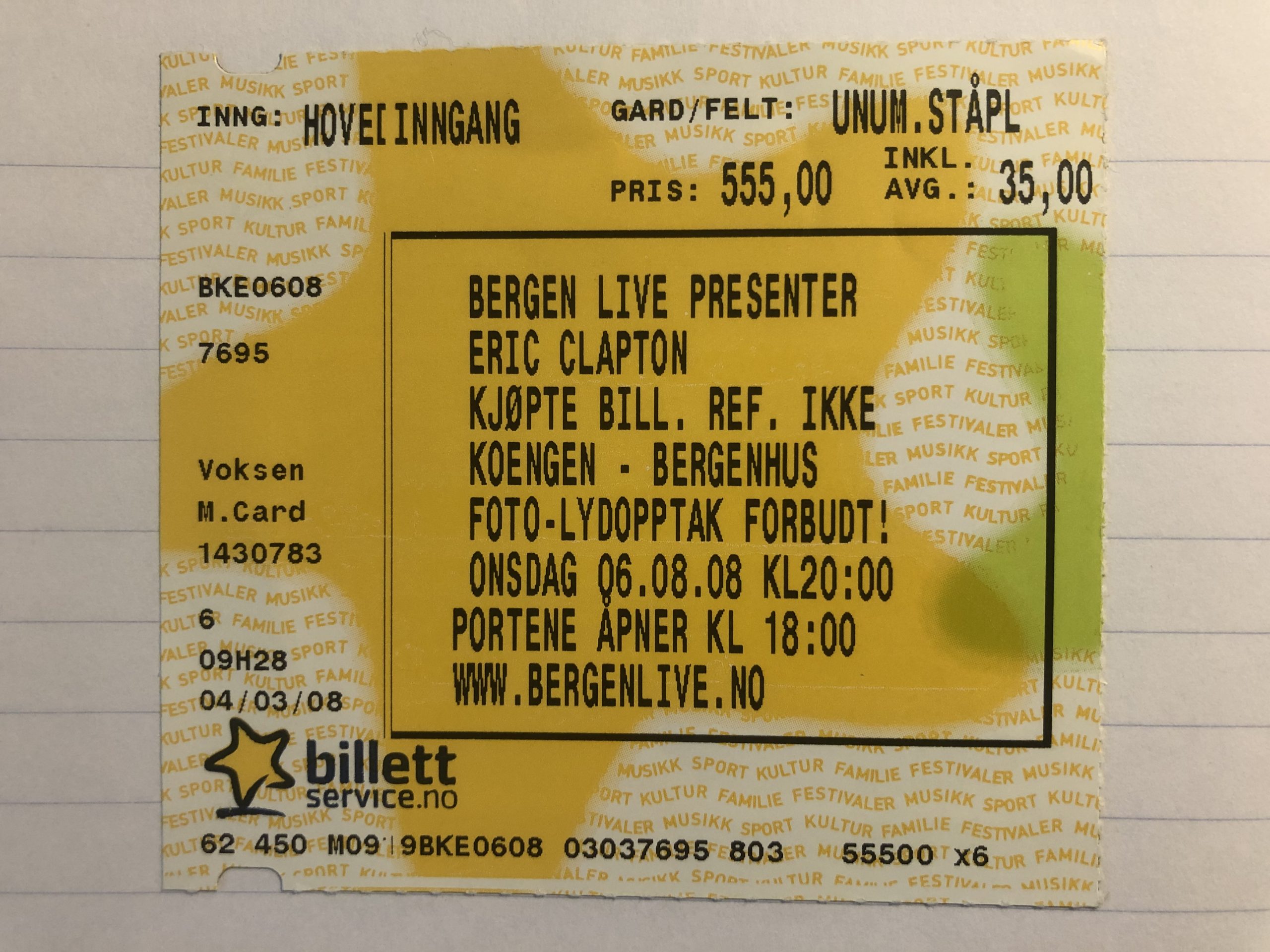 Dato: 6. august 2008
Sted: Koengen, Bergen
Da jeg var på Eric Claptons konsert i Spektrum for to år siden, trodde jeg det var for siste gang. Men på Koengen spilte han en meget overbevisende blå konsert.
Eric Clapton er en av mine virkelige store helter, på linje med Frank Zappa, Jean-Michel Jarre, Mark Knopfler, Paul McCartney og David Bowie. Uansett dagsform er det noe bra ved konserten. Det er slik det er å være tilhenger. Man er lojal. Men denne kvelden i august trengte jeg ikke å være lojal. Clapton var spillesugen, og ivret etter å gi oss 20.000 publikummere en leksjon i blues og lettere psykedelisk bluesrock.
Slik det skal låte. Jeg digget det.
Konserten minnet meg litt om den i 1995, da jeg dro sammen med fattern. Minnene kom spesielt under Motherless Child, men også under andre favoritter han hadde, Nobody Knows You When You're Down And Out og Before You Accuse Me. Allikevel klarte jeg å nyte konserten fordi den var god, ikke fordi den minnet meg om fattern.
Etter min mening er Eric Clapton først og fremst en konsertmusiker, ikke en studiomusiker. Han spiller riktignok fletta av de fleste, men det er på konsertscenen han får utfolde seg og vise hvilken allsidighet han har. Han kan gå fra det støyete og psykedeliske til det lune og ettertenksomme, fra den ene låten til den andre. Hver gang er melodien der. Og de overgangene som får smilet til å komme.
Kanskje har ikke Clapton brøytet så mye mark de senere årene, men det har ingen i hans generasjon musikere. De lever alle sammen på gamle, store bragder. Det er bare forskjellige måter å gjøre det på. Paul McCartney tviholder på The Beatles, mens Clapton henter frem de blå tonene. Til en viss grad var spillelisten standard, men allikevel var det svært fornøyelig å høre så mange sanger fra Derek & The Dominos-tiden.
Det var også en jevn variasjon mellom bluesklassikere og egenkomponerte sanger. Clapton ga mye rom til sine musikere, spesielt Doyle Bramhall II og Chris Stainton. De briljerte og koset seg. Publikum med. Det har alltid preget Eric Claptons konserter. Musikalsk eleganse.
Meget godt levert av Eric Clapton. Kort fortalt.
Bandet:
Eric Clapton: gitar og sang
Doyle Bramhall II: gitar og sang
Willie Weeks: bass
Abe Laboriel Jr: trommer
Chris Stainton: keyboard
Sharon White og Michelle John: kor
| | | | | |
| --- | --- | --- | --- | --- |
| Låttittel | Album | Utgitt | Artist | Komponist |
| Tell The Truth | Layla | 1970 | Derek & The Dominos | Eric Clapton, Bobby Whitlock |
| Key To The Highway | Layla | 1970 | Derek & The Dominos | Big Bill Broonzy, Charles Segar |
| Hoochie Coochie Man | From The Cradle | 1994 | Eric Clapton | Willie Dixon |
| Isn't It A Pity? | All Things Must Pass | 1970 | George Harrison | George Harrison |
| Outside Woman Blues | Disraeli Gears | 1967 | Cream | Arthur Reynolds |
| Here But I'm Gone | New World Order | 1997 | Curtis Mayfield | Curtis Mayfield |
| Why Does Love Got To Be So Sad? | Layla | 1970 | Derek & The Dominos | Eric Clapton, Bobby Whitlock |
| Driftin' | From The Cradle | 1994 | Eric Clapton | Charles Brown, Johnny Moore, Eddie Williams |
| Nobody Knows You When You're Down And Out | Layla | 1970 | Derek & The Dominos | James Cox |
| Motherless Child | From The Cradle | 1994 | Eric Clapton | Tradisjonell |
| Travelling Riverside Blues | Me And Mr. Johnson | 2004 | Eric Clapton | Robert Johnson |
| Running On Faith | Journeyman | 1989 | Eric Clapton | Jerry Williams |
| Motherless Children | 461 Ocean Boulevard | 1974 | Eric Clapton | Tradisjonell |
| Little Queen Of Spades | Me And Mr. Johnson | 2004 | Eric Clapton | Robert Johnson |
| Before You Accuse Me | Journeyman | 1989 | Eric Clapton | Ellas McDaniel |
| Wonderful Tonight | Slowhand | 1977 | Eric Clapton | Eric Clapton |
| Layla | Layla | 1970 | Derek & The Dominos | Eric Clapton, Jim Gordon |
| Cocaine | Slowhand | 1977 | Eric Clapton | J.J. Cale |
| Crossroads | Wheels Of Fire | 1968 | Cream | Robert Johnson |
Eric Clapton – Nothing But The Blues Tour 1995, Oslo Spektrum