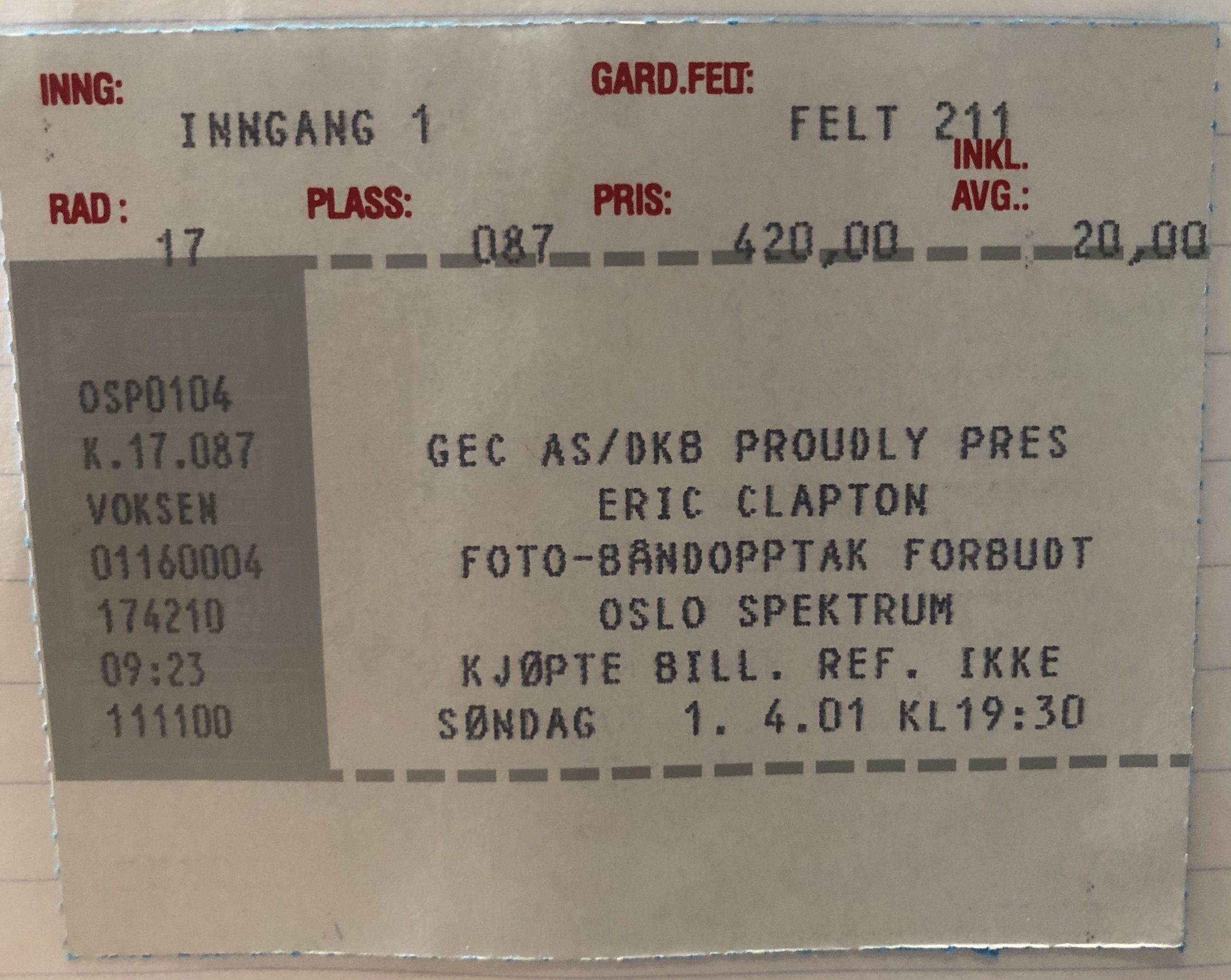 Dato: 1. april 2001
Sted: Oslo Spektrum
Jeg var dessverre ikke på ECs konsert i 1997 på Molde jazzfestival sammen med supergruppen Legends som han var en del av for anledningen, eller på Spektrum-konserten i 1998. Nå måtte jeg!
Dette var annonsert som Claptons avskjedsturné. Musikalsk var dette en blanding av gamle Clapton-perler og nye sanger fra ferske Reptile. Clapton varierte mellom «unplugged» og hardt elektrisk.
Repertoarmessig var det ingen store overraskelser, bortsett fra at Layla kom i elektrisk versjon og ikke i den akustiske versjonen som Clapton har gjort siden utgivelsen av platen Unplugged. Han inviterte gitaristen i oppvarmingsbandet opp på scenen under tre sanger. Det ga sangene et litt annerledes preg enn vi er vant til i Claptons tradisjonelle utgave.
Etter en tung Sunshine Of Your Love som første ekstranummer rundet han av med den eviggrønne Over The Rainbow.
Det er med Clapton som med andre storheter; de gamle er eldst. Han var kanskje litt trøtt og lei i kveld, men det til tross leverte han en knallbra konsert. Clapton er og vil alltid være en gitargud.
Spilleliste:
Key To The Highway (akustisk, EC solo)
Reptile
Tears In Heaven (akustisk)
Bell Bottom Blues (akustisk)
Change The World (akustisk)
My Father's Eyes
River Of Tears
Goin' Down Slow
She's Gone
Got You On My Mind
Don't Let Me Be Lonely Tonight
Travelin' Light
Superman Inside (med Doyle Bramhall II)
Hoochie Coochie Man (med Doyle Bramhall II)
Have You Ever Loved A Woman (med Doyle Bramhall II)
Cocaine
Wonderful Tonight
Layla
Sunshine Of Your Love (ekstra)
Somewhere Over The Rainbow (ekstra)
Eric Clapton – Nothing But The Blues Tour 1995, Oslo Spektrum