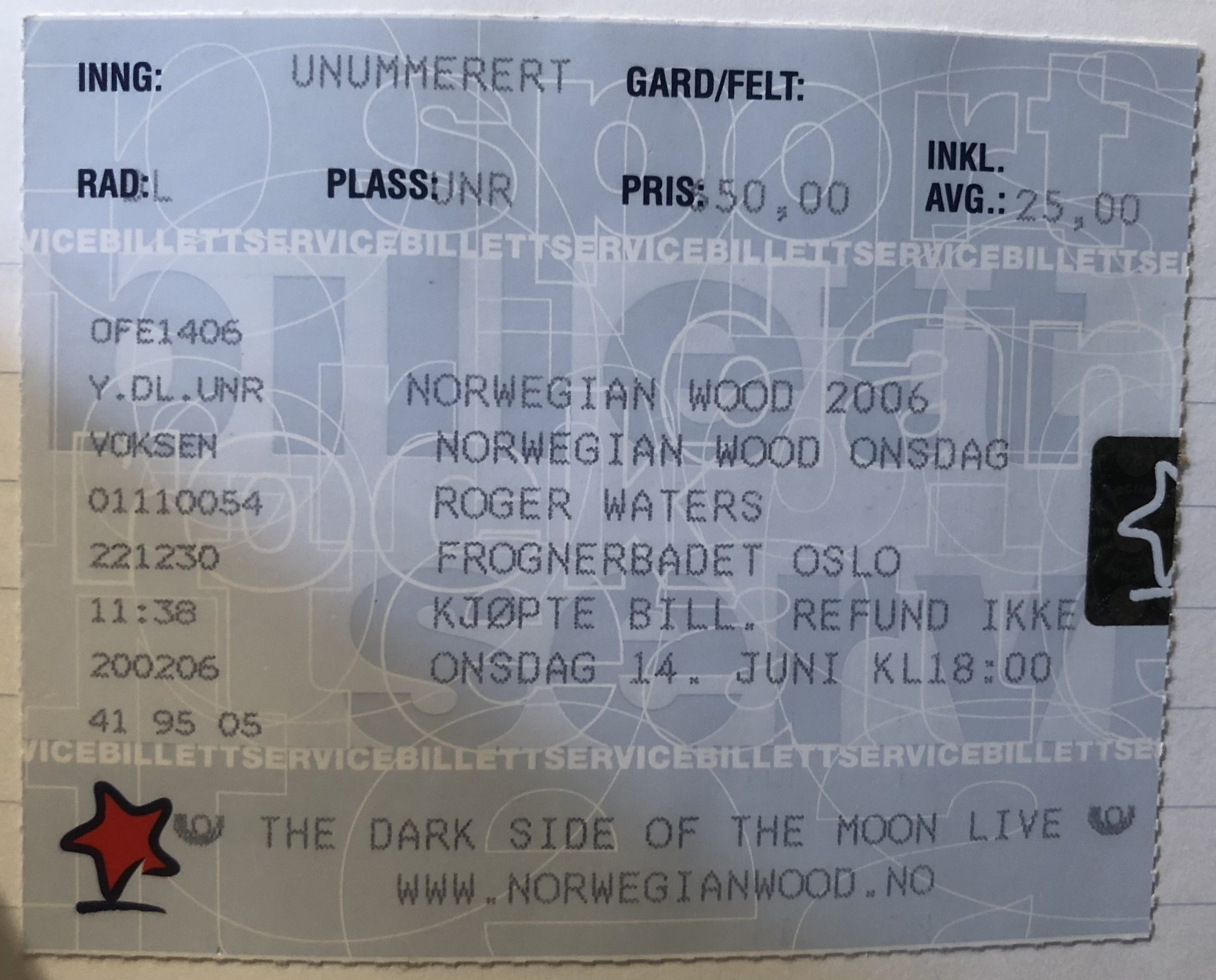 Dato: 14. juni 2006
Sted: Norwegian Wood, Frognerparken
En særdeles engasjert Roger Waters fremførte Pink Floyd-klassikere med full overbevisning og innlevelse på Norwegian Wood.
Hva som er å foretrekke av Roger Waters som fremfører sine egne Pink Floyd-sanger som soloartist eller et semi-Pink Floyd med David Gilmour i spissen er muligens en smaksak, men Waters var absolutt i slaget på konserten som ble utsolgt på 18 minutter.
Det kunne observeres alt i fra 12 år gamle gutter med AC/DC-trøye til 60-åringer med tårer i øyekroken og et stort smil om munnen. Waters og hans dyktige band fremførte overbevisende og forrykende versjoner av de tidløse Pink Floyd-låtene.
In The Flesh og Mother fra The Wall åpnet konserten som ble preget av allsang og god stemning. Senere i første akt fremførte Waters sterke versjoner av Have A Cigar og Perfect Sense. Andre akt ble viet mesterverket Dark Side Of The Moon i sin helhet. Waters oppnådde kontakt med publikum tidlig, til tross for at han ikke snakket så mye mellom låtene. Han pekte på oss, smilte og fikk blikkontakt med flere i parken.
Det var mange høydepunkter i løpet av den nesten 3 timer lange konserten. Lyden generelt var upåklagelig, og surroundlyden under blant annet Sheep og Money var meget effektfullt. Det var berusende å høre flere tusen mennesker synge: «Remember when you were young / you shone like the sun / shine on your crazy diamond».
De politiske videosekvensene med klipp fra Falklandskrigen i 1982 under The Final Cut-sangene var utfyllende. Stemningen både på scene og blant publikum under Sheep var elektrisk. Carol Kenyon, en av tre kordamer, var tydelig nervøs før sin tolkning av The Great Gig In The Sky, men mottok enorm applaus avslutningsvis. Dave Kilminster leverte en rekke flotte gitarsoloer, spesielt på Money. Han prøvde ikke å kopiere David Gilmour, men ga rom for egne tolkninger.
Eneste innvending jeg har på fremførelsen var at Waters lot tre andre i bandet veksle på å synge Gilmours partier litt for ofte. Han kunne godt ha sunget mer selv. Motivet for å arrangere musikken på denne måten kan muligens være å legge seg tettest mulig opp mot originalversjonene, men uansett gir en solokonsert med Roger Waters i slaget en bedre magefølelse enn et semi-Pink Floyd. David Gilmour er en dyktig sanger og gitarist, men når opphavsmannen ikke er med blir det noe merkelig.
Under første ekstranummer hylte 8000 mennesker «we don't need no thought control». Stort bedre enn dette blir det ikke. Særdeles overbevisende fra Roger Waters.
Band:
Roger Waters: vokal, bass, akustisk gitar
Andy Fairweather-Low: elektrisk og akustisk gitar, bass
Snowy White: elektrisk gitar
Dave Kilminster: elektrisk gitar, vokal
Graham Broad: trommer
Jon Carin: synthesizer, keyboards, gitar, vokal
Harry Waters: hammondorgel
Ian Ritchie: saksofoner, bass
Katie Kissoon, P.P. Arnold og Carol Kenyon: kor
Spilleliste:
Del 1:
In The Flesh / Mother / Set The Controls For The Heart Of The Sun / Shine On Your Crazy Diamond / Have A Cigar / Wish You Were Here / Gunner's Dream / Southampton Dock / Fletcher Memorial Home / Perfect Sense / Leaving Beirut / Sheep
Del 2:
Hele Dark Side Of The Moon-albumet
Ekstra:
Happiest Days Of Our Lives / Another Brick In The Wall (part 2) / Vera / Bring The Boys Back Home / Comfortably Numb