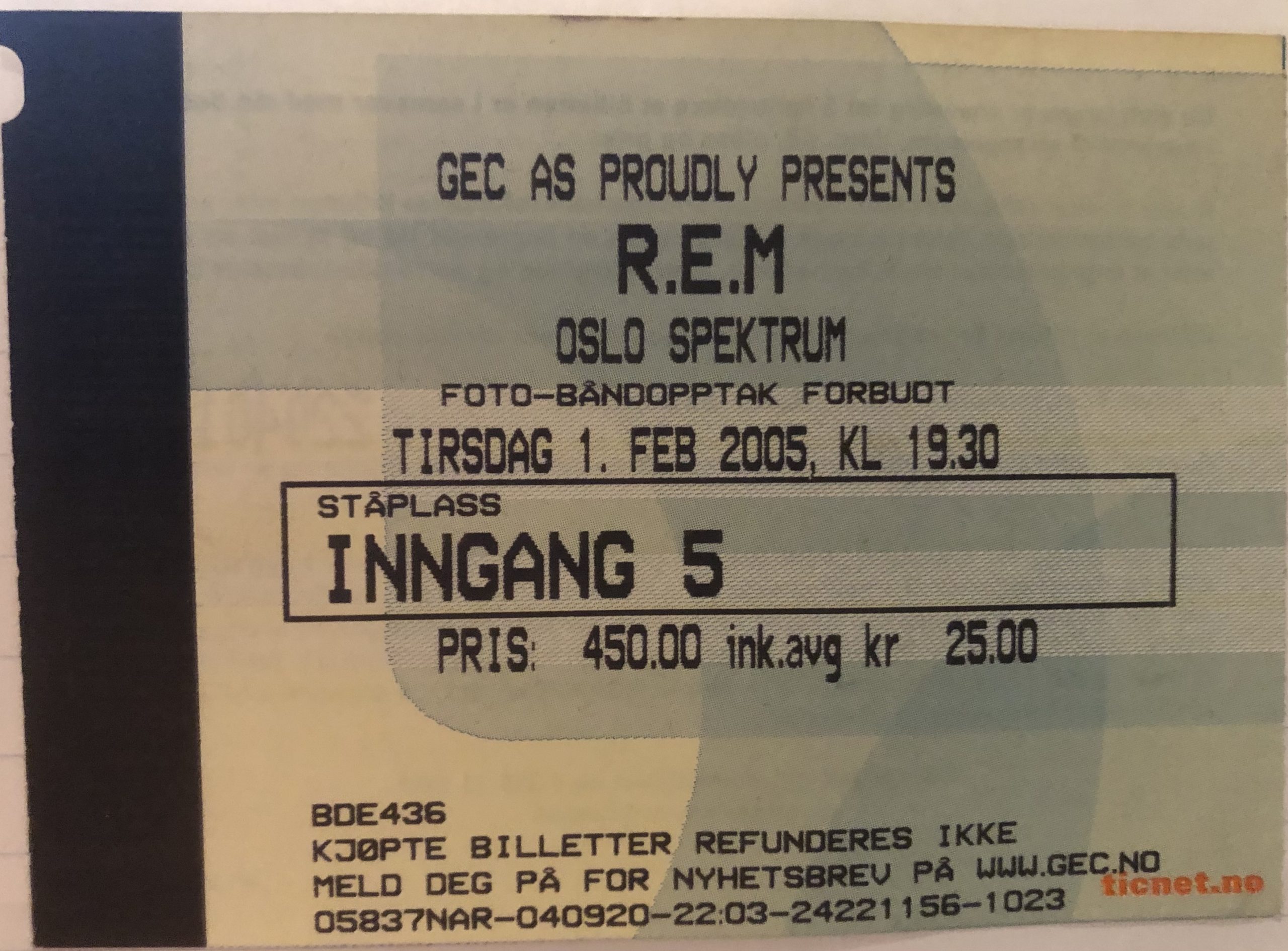 Dato: 1. februar 2005
Sted: Oslo Spektrum
Broren min Ketil introduserte meg for det amerikanske bandet i 1991 med Out Of Time. Siden den gang har jeg fulgt med litt fra sidelinjen, men da jeg leste at de skulle spille i Norge 3 ganger i løpet av 2005 ville jeg på konsert.
På Bowie- og McCartney-konserter jeg har vært på har jeg kjent alle sangene så godt at jeg sang med. R.E.M. har jeg ikke det samme forholdet til, men det var ikke vanskelig å skjønne at konserten var bra. Deres repertoar er stort og spennende. De spilte ikke bare gamle hits, men trakk frem litt eldre sanger fra midten av 80-tallet (som for eksempel åpningslåten). Vokalist Mike Stipe elsker det tidlige repertoaret og mener han kan synge disse sangene på konsert. Det syns jeg også han skal fortsette med. Det er bra sanger.
Men de nyere står ikke i skyggen. Her fikk vi servert Imitation Of Life, Drive, Losing My Religion, Everybody Hurts og What's The Frequency Kenneth. Under Leaving New York fra deres siste CD ble det allsang. Det skjer ikke hver dag.
Stipe har en merkelig fremtoning på scenen med sine nesten mongoloide bevegelser, men han oppnår mye kontakt med sitt publikum. Også når han går mot scenekanten og skal bli hyllet av fansen. Det blir han hver gang. Og han vet det.
Jeg gleder meg til konserten i juni på Ullevaal stadion. Spektrum-konserten var en god en, og det er ingen grunn til å tro at stadion-konserten i juni skal bli noe dårligere.
Spilleliste:
Finest Work Song, Departure, So Fast So Numb, Boy In The Well, Animal, Outsiders, Everybody Hurts, Aftermath, Leaving New York, Seven Chinese Brothers, Hi-Speed Train, Imitation Of Life, Orange Crush, I Wanted To Be Wrong, Final Straw, Losing My Religion, Walk Unafraid, The One I Love, What's The Frequency Kenneth (ekstra), Disturbance Of The Heron House (ekstra), Drive (ekstra), The Great Beyond (ekstra), I'm Gonna DJ (ekstra), Man On The Moon (ekstra)